PetnYou 2nd Agility n OB trials - 13 May, 2007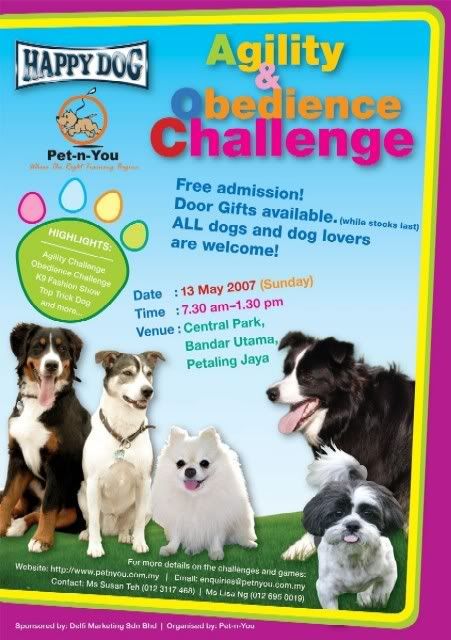 Get set 4 more competitive n exciting dog sports at d PetnYou 2nd Agility & OB Challenge at Bandar Utama Central Park on Sunday 13 May ... all dogs, owners n handlers r invited. Dis is d premier dog sporting event in town whereby every1 is encouraged 2 partake.
No exorbitant entrance fees n certainly no limitation of participants 2 a select crowd, which happens 2 b an unhealthy practice by certain training schools. Certain of dese schools even go as far as 2 discourage deir trainees from taking part in such 'non-sanctioned' events, which does nothing at all 4 d development of dog sports in dis country. As it is, dogs hv a fairly short lifespan n owners shld know n do wats best 4 deir dogs by giving dem every opportunity 2 grow n develop in such sports.
To encourage dog sports n activities, PetnYou events r always open 2 all. Here, d competition is open, fair, keen,safe n pleasant 4 all K9s. Winners n K9 athletes r genuinely celebrated, encouraged 2 perform n excel in deir chosen discipline. Way 2 go!
Event is geneorusly sponsored by 'Happy Dog' n door gifts will b handed out 2 all who turn up on d day. 2 cater 2 all dog lovers, casual doggie games will also b in 2 offering, which includes d popular 'Top Dog Model', d new 'Total Recall', d athletic 'Long Jumper' n d creative 'Top Trick Dog'.
4 details, check out Happy Dogs!